EDASIMÜÜJATEGA KOHTUMINE
2018 kokkusaamine edasimüüjatega, Paha, Tšehhi
Rohkem kui 70 inimeset 37 riigist võttis osa meie ülemaailmsest edasimüüjate kokkusaamisest Prahas. Kahepäevse ürituse jooksul nägime me mitmeid huvitavaid ja ka vaimukaid ettekandeid. Arutelud tehtud tööde üle olid inspiratsiooni allikaks kõigile osavõtjatele.
Sõit ajaloolise trammiga, vaatamisväärsustega tutvumine ja õhtusöök jõelaeval lisasid võimalusi sotsiaalseks suhtluseks ja kogemuste vahetamiseks.
Soovime õnne 6 erineva kategooriate võitjatele. Võitjateks olid:
Prihoda Malaysia Sdn Bhd (parim turundus)
Xilio NV (edukaim müük populatsiooni kohta)
Green Holdings MX SA DE CV (suurim müügi kasv)
Xilio NV (esindaja pronksmedal)
Prihoda North America (esindaja hõgemedal)
AirQuell GmbH (esindaja kuldmedal)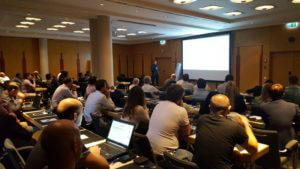 Thank you for the excellent time we had in Prague and we are looking forward to seeing you again.
VIDEO from the entire event can be found  HERE
Rohkem informatsiooni leiab meie Facebook-i lehelt